What color are you wearing?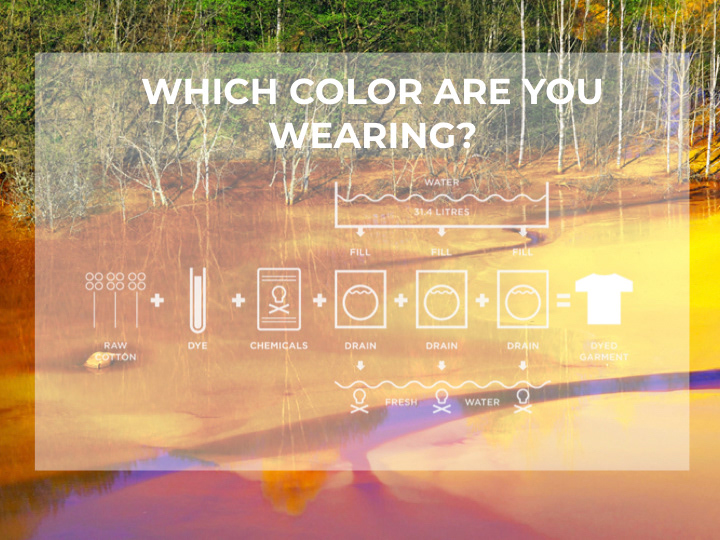 THE ISSUE
The textile industry is one of the most polluting in the world, in which one the most environmentally disastrous processes is the dyeing of fibers and textiles of the clothes we wear. Chemicals are released daily in nature destroying the environment around us to satisfy the colour demands that we create as designers, industry and consumers. Very few options are being explored in this fast changing fashion, clothing and textile industry, in which the list of chemical treatments is only expanding. We are simultaneously trying to identify the real environmental costs we are paying and researching for less harmful alternatives.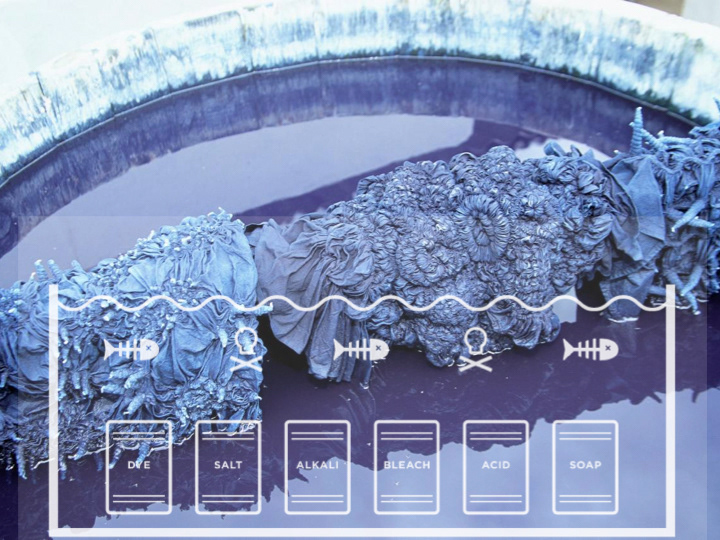 WHAT COLOR ARE YOU WEARING?
When speaking about dyed fabrics, we often forget that this is one of the most polluting processes in the textile industry, its been a pressing problem for many years, of which most of us are not even aware about. 
HOW IS THIS POSSIBLE?
The fact is that we constantly speak about how polluting the fashion and textiles industry is, but we never specify which are the real issues that need to be faced. We speak about consumerism, waste materials, over production, unfair labour, organic and non organic fibres. Consumers are asking for things to change, but they are not aware about the impact of many environmentally pressing problems that complex processes such as textile dyeing, mordanting and fixating create daily. One of the first questions we often ask our community is: 
"HAVE YOU EVER CHECKED YOUR CLOTHING LABEL?"  
or
"HAVE YOU EVER NOTICED THAT NO INFORMATION ABOUT THE DYES IS WRITTEN ON YOUR CLOTHING LABEL?"
A brief moment of confusion usually follows this question.
Images like the ones above illustrate clearly how chemically intensive this process is, how the polluted waste waters are constantly released during the process itself and what our desire for new colours every season and everlasting dyes, fixed and wash fast collars are impacting our world today.
IS NOBODY REALLY TAKING CARE OF THIS ISSUE?
Initiatives like the Greenpeace "DETOX" campaign have been trying to get attention to the issue, listing the main negative chemicals that are still used today in the dyeing process.
The long and unhappy list brings together a series of heavy metals and chlorine based compounds such as: 
ALKYLPHENOLS, AZODYES, BROMINATED AND CHLORINATED FLAME RETARDANTS, CADMIUM, LEAD, MERCURY AND CHROMIUM, CHLORINATED SOLVENTS, CHLOROBENZENES, CHLOROPHENOLS, PERFLUORINATED COMPOUNDS, PHTHALATES, SHORT CHAINED CHLORINATED PARAFFINS.